WAGS 4 WARRIORS  3201 E. ROYALTON RD  BROADVIEW HTS, OH 44147    ELECTIONS ELECTIONS ELECTIONS  !!!
Our very own Santa John will once again do his magic for us at our November meeting! He has arranged for Santa to come visit us for some really great pics (he has the most amazing backdrop). Hope CVGRC members (and those applying to membership) will come out and hear our program on WAGS4Kids, get their dogs pics taken with santa and enjoy some holiday hospitality!
BELOW IS A PHOTO OF VONNIE PETERSON (BOARD MEMBER) GIVING BECKIE JORDAN THE CHECK THE CLUB RAISED FOR OSARA  (OHIO SEARCH & RESCUE ASSOCIATION). THIS WILL HELP THE TEAM BUY EQUIPMENT TO HELP TRAIN.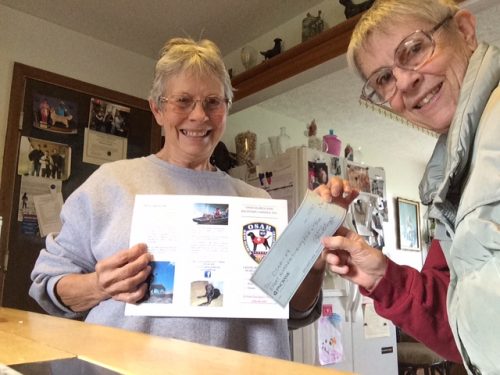 BELOW ARE PICS OF OUR HALLOWEEN PARTY !!!
  CCI DOG FEST WALK ' N' ROLL        
THIS WAS OUR SEPTEMBER MEETING INSTEAD OF A MONDAY NIGHT MEETING BECAUSE OF THE GRCA NATIONAL  EVENTS–AND HERE ARE SOME PICTURES OF THE WALK !!!  LOOKS LIKE THEY SURE HAD FUN !!!
HERE IS A SLIDESHOW OF THE DOCK-DIVING FUN EVENT FUND RAISER OUR CLUB HELD 9-16-2017 AT THE DUKE'S SPLASH 'N DASH !!! HOPE YOU ENJOY IT AS MUCH AS IT LOOKS LIKE THE DOGS DID !!!