Our very own Santa John  once again did his magic for us at our November meeting! THANK YOU SANTA !!!!
MERRY CHRISTMAS TO ALL !!!!
OFFICERS & UPDATED CONTACT INFO IS ON OUR CONTACT PAGE BUTTON !!!
BELOW IS A PHOTO OF VONNIE PETERSON (BOARD MEMBER) GIVING BECKIE JORDAN THE CHECK THE CLUB RAISED FOR OSARA  (OHIO SEARCH & RESCUE ASSOCIATION). THIS WILL HELP THE TEAM BUY EQUIPMENT TO HELP TRAIN.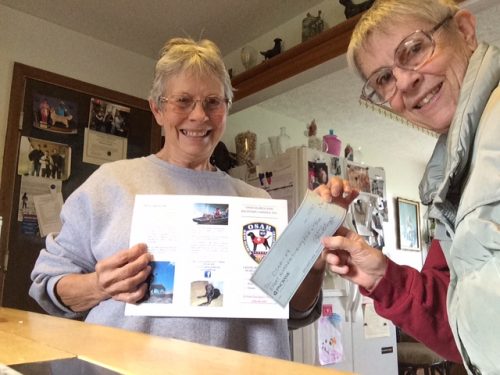 AND HERE ARE  ARE PICS OF OUR HALLOWEEN PARTY !!!
  CCI DOG FEST WALK ' N' ROLL        
THIS WAS OUR SEPTEMBER MEETING INSTEAD OF A MONDAY NIGHT MEETING BECAUSE OF THE GRCA NATIONAL  EVENTS–AND HERE ARE SOME PICTURES OF THE WALK !!!  LOOKS LIKE THEY SURE HAD FUN !!!
HERE IS A SLIDESHOW OF THE DOCK-DIVING FUN EVENT FUND RAISER OUR CLUB HELD 9-16-2017 AT THE DUKE'S SPLASH 'N DASH !!! HOPE YOU ENJOY IT AS MUCH AS IT LOOKS LIKE THE DOGS DID !!!