CVGRC is a member club of the Golden Retriever Club of America and is licensed by the American Kennel Club. Our Members are golden retriever owners, breeders, exhibitors, trainers, and judges. The majority of our members are located in north and central Ohio and suburban Cleveland and Akron areas. While most of our members are located in Ohio, we do have members all over Ohio, Tennessee, Pennsylvania, Michigan and Indiana. Together, we sponsor club activities that range from educational to competitive to down-right fun! CVGRC also publishes a newsletter, sponsors this website, has a Facebook page, and holds bi-monthly membership and board meetings.
Our major events include a Hunt test and regional Specialty (with Greater Pittsburgh Golden Retriever Club) in June, multiple Agility trials per year, and WC/WCX test in the September.  In addition, we hold regular CCAs (Certificate of Conformation Assessment), CGC (Canine Good Citizen) testing, offer Trick Dog Testing, Therapy Dog evaluation, attend Pet Expos, host multiple Health Clinics, hold special seminars, have holiday parties and picnics! We also just finished up hosting the Golden Retriever Club of America (GRCA) National Specialty September 1-14th, 2022.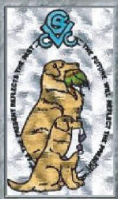 Mark Your Calendars for these Upcoming CVGRC Events
Next Meeting: November 28th
Where? Brecksville Library, 9089 Brecksville Rd, Brecksville, OH 44141
              6:30 pm (meeting starts at 7 pm) We have the room until 845
Elections!
We have LOTS of FREE gifts to pass out!
Kathy Sutliff will have all the remaining merchandise left over from the national available for purchase to members at a greatly reduced price.   Sizes and supplies are limited
CVGRC sponsored Agility Trial at Pinnacle Dog Sports 1006 Crocker Rd Westlake, OH 44145
Dates: November 18th, 19th, 20th. Premium can be found under "Events"  tab. If you are running a dog and can help with the trial, please let Andrene know. We are in need of bar setters, leash/scribe runners, scribing, gate keeper, timing, ribbons, course builder. We would love to have enough volunteers so that people can work half days! Trial opens for entries 9/21 and closes 11/9 at 6 pm. Premiums for the rest of the events at Pinnacle are also posted under "Events"

Heart and Eye Clinic Saturday March 25th Medina Kennel Club
---