OUR MARCH 26 MEETING WAS HELD AT SIMON'S DELI IN BRECKSVILLE AND AMY GUTMANN SPOKE ABOUT DIABETIC DETECTION TRAINING. SHE GAVE A BRIEF OVERVIEW OF UNDERSTANDING DIABETES AND SCREENING CLIENTS.
THANK YOU AMY FOR YOUR TIME AND EXPERTISE !!!
FOR OUR CVGRC ANNUAL BANQUET & AWARDS PROGRAM THIS YEAR WE HAD A GUEST SPEAKER ! DR. EMILY ROACH SHARED INFORMATION ABOUT THE MORRIS FOUNDATION 3000 STRONG LIFETIME CANCER STUDY. THANK YOU DR. ROACH FOR COMING…WE ACTUALLY HAD PEOPLE AT OUR DINNER WHO HAVE DOGS CURRENTLY IN THIS STUDY, SO IT WAS VERY NICE TO HEAR FROM HER.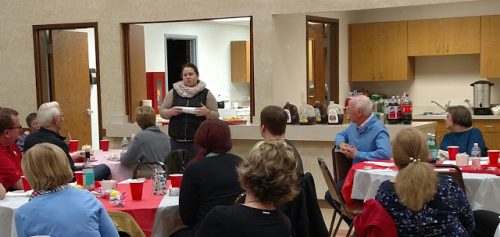 PLEASE ENJOY SOME OF OUR CLUB BANQUET'S HIGHLIGHTS !!
Our very own Santa John  once again did his magic for us at our November meeting! THANK YOU SANTA !!!  ENJOY THIS SLIDE SHOW !!!!!
 MERRY CHRISTMAS TO ALL !!!!
OFFICERS & UPDATED CONTACT INFO IS ON OUR CONTACT PAGE BUTTON !!!
BELOW IS A PHOTO OF LISA SCHULTZ & AMY HARMON (BOARD MEMBER) GIVING WENDY CRAN THE CHECK THE CLUB RAISED FOR WAGS. THIS WILL HELP THE CHARITY TO FUND THE TRAINING OF ANOTHER SERVICE DOG FOR A CHILD IN NEED !!