THE ROOKERY  10110 CEDAR ROAD  MUNSON TOWNSHIP , OH 44026
October Meeting:  7 P.M.
The October meeting will be held at The Rookery, and we will be having a howling good time!
Bring out the cider, donuts, and other fall snacks to share with one another. We will have a brief
meeting but plan to spend the time playing dog games with our BFFs! Games will include, but are not limited to…
1)      Cutest dog shirt! You wear yours!
2)      Dog tricks (3-2-1) Brush up on your pups cutest tricks to share with all.
3)      Sit stay! For how long……..?
4)      That was easy! Does your dog free shape? Show/tell us what you got!

5)   Fetch this! Bring a basket of some odd stuff to strut your mutt! 

6) Fashion Diva/Gent. Have your pup wear their finest!   

    CCI DOG FEST WALK ' N' ROLL        
THIS WAS OUR SEPTEMBER MEETING INSTEAD OF A MONDAY NIGHT MEETING BECAUSE OF THE GRCA NATIONAL  EVENTS–AND HERE ARE SOME PICTURES OF THE WALK !!!  LOOKS LIKE THEY SURE HAD FUN !!!
HERE IS THE PICTURE OF AMY HARMON GIVING THE CHECK TO BONNIE S. OF CLEVELAND CCI FROM OUR FUNDRAISING WALK !! THANKS TO ALL WHO WORKED FOR THIS !!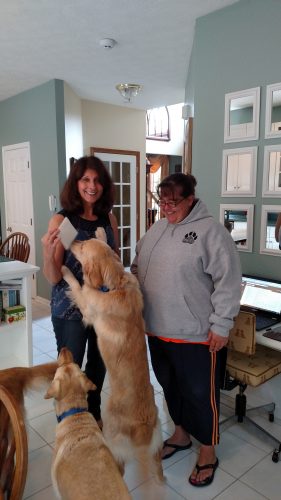 HERE IS A SLIDESHOW OF THE DOCK-DIVING FUN EVENT FUND RAISER OUR CLUB HELD 9-16-2017 AT THE DUKE'S SPLASH 'N DASH !!! HOPE YOU ENJOY IT AS MUCH AS IT LOOKS LIKE THE DOGS DID !!!