Cuyahoga Valley Golden Retriever Club Inc.
Gold'n News
June 2018
Vol XLIII Issue 6
June Reminders
June Meeting: We will not be holding a meeting this month.
Our next meeting will be in July. This is due to all the upcoming events.
Check out what you can participate or volunteer for!
As you may have noticed the Golden Mile will not be held this month. I recently had surgery and have not yet been able to schedule our walk. There will be one in July.
Happy Belated Father's Day to all you dads out there!
Thanks for your continued support!
---
Member News
Special Thanks from Carol Young
Holding a hunt test is a labor-intensive project that requires countless hours of planning and a small village to put on a quality event.  I had a great committee who all helped tremendously.   Securing the birds, finding workers who could commit to a weekend of working in unknown weather conditions, all the paperwork and budget planning are only a few of the jobs that needed done.  Committee members Tara Perby (secretary), Kathy Koenig, Marilyn Richards, Vonnie Peterson all came through for me to make me look like I knew what I was doing.  Christy Thomas worked behind the scenes for us as she stepped in to take the place of one of the judges who had to back out at the last minute.  Thank you to all!
Our volunteers and paid workers during the weekend were tremendous.  Let me tell you, they all stepped up to the plate!  A special thank you to club members Beckie Jordan for marshaling senior, Joan Sapsford for marshaling junior, and Bobby Dulaney for gunning at master.  Many, many people spoke to me during the weekend to complement our workers and tell me how well run our event was.  Thank you so much!
Carol Young, Hunt Test Chairman
---
Congratulations to High Times Soup of the Day!
High Times Soup of The Day, SH, WCX (Campbell) got her 5th pass at our Hunt Test on June 9 and 10, to earn the Master Hunter Title.  She is now High Times Soup of The Day, MH, WCX!!!!!
---
Jason and Robin Schell's pack is growing!
We are pleased to introduce Gold'N'Point Second Sunryze aka Ozzy Pawzbourne, Prince of Barkness. He is joining a big brother Indiana Bones.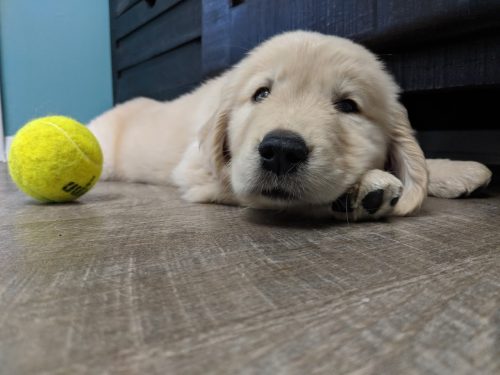 If you have any topics or articles you would like to share, please email them to the Editor at rschell08@gmail.com.
---
Mark your calendars
Club Agility Trial- Aug. 11-12th
SOG agility – 8/03
WC/WCX- September 2nd
SOG agility – 9/21-23
Agility Trial – October 12th, 13th & 14th