Cuyahoga Valley Golden Retriever Club Inc.
Gold'n News
May 2018
Vol XLIII Issue 5 
May Reminders
May Meeting:
We will not be holding a meeting this month.
Our next meeting will be in July. This is due to all the upcoming events. Check out what you can participate or volunteer for!
However, you and your golden are invited to join us for the "Golden Mile" happening at 11 AM
Saturday 05/26/2018 at Bedford Reservation located Tinker's Creek Scenic Viewing area at 18753 Egbert Rd, Bedford, OH 44146. We will leave the parking lot and begin our 1 mile walk promptly at 11:15 AM. Once the walk is finished there will be a light beverage and snack "Tail-gate" for you to enjoy. This will be the second of 12 planned monthly walks that will take place all along NE Ohio.
This month's walk will be on flat paved ground, please be sure to wear proper footwear.
Thanks for your continued support!
---
Member News
Special Thanks
Vonnie Peterson would like to say "Thanks to Megan Sapsford AND Megan MacIntyre for taking over writing the GR News columns for me. I will enjoy reading new perspectives!!!"
CVGRC would like to thank Barb Vick for leading an informative program during our lunch at the Puppy Match. We had a nice handful of our present breeders there to share a bit about their program and Barb did a great job sharing some of her 30+ years of experience, with us.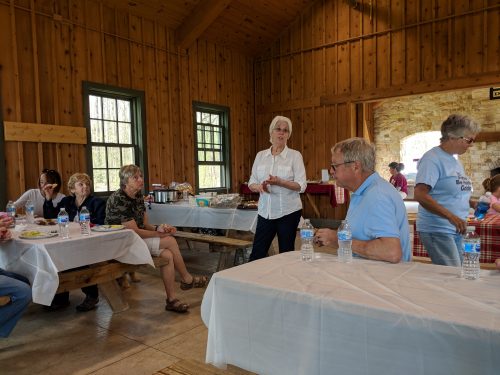 Thanks to all who came out to help or just enjoy our NEW location at the Bass Lake Preserve.  We had a sunny, and warm day (I was reminded it is either sunny/warm or cold/wet – funny!) We were happy to see several new faces (Char Hartson, Joanne Ruthsatz, and Linda and Jerry Casey) along with some of our present members. Approximately 8 dog/handler teams worked with Amy Gutmann, working through the CGC testing to learn more about the program and 1 team passed!!
Rochelle Andonian worked with and judged the 3 pups who entered the breed match: 3-6 mo. male (Willie – Char Hartson), 12-18 mo. male (Finn – Linda and Jerry Casey), and 6-9 mo. female (Ivy – Beckie Jordan). Beckie and Ivy were "Best Member."
---
Hunt Test June Sat.-Sun., June 9th-10th
Our annual Hunt Test will be held at Buckeye Retriever Club located at 9131 Kile Road, Hambden, Ohio. If you are interested in volunteering, please contact Carol Young (Goldenz4me@gmail.com) and Tara Perby at 440-286-5744 (H).
This is a great chance to get to know your fellow club members while hidden in a blind tossing dead ducks into the air, I speak from experience. – Robin S.
---
Message about the upcoming CVGRC Specialty June 20th – 22nd
Our Specialty show is less than a month away!  We are hoping to see all our members at the show, whether you are coming to show or coming to watch – our dogs love an audience!!  The fun starts on Wed night with our puppy match.  Come see our stars of the future having a good time!  On Thursday and Friday there will be two shows each day; one put on by our club and one put on by the Pittsburgh club.  You can see the conformation dogs do their thing in the breed ring or come watch our obedience and rally athletes amaze.
We usually get a large amount of our trophy money from our heart clinic; however, due to circumstances beyond our control we are unable to hold it this year.  This is where our club members come in.  We are looking for donors for our trophies. You won't get your name in lights, but you can get your name in the catalog if you let me know by April 25​th​!
Some of the trophies still available are BOS -$30, Select Dog – 20, AOM – $15, WD -$20, Res WD & WB – $10, all classes are $7 and almost all are available.  For obedience we have HIT $30, High Combined – $30, and all classes $7.  We also have High Scoring in Rally $25 and all Rally classes $7.00.  All Junior classes are also available with Best Jr – $25 and all JR classes $10.  Or you can contribute any amount to the General Trophy Fund.
We thank you in advance for any contribution!  If you are interested in sponsoring a trophy but have questions, please don't hesitate to call me 440-235-3686, or email sudansfarm@cox.net.  Please email me and let me know what trophy you want to sponsor so I can reserve for you.  Again, thank you for your donation!  -Sue Sanvido
If anyone wants information on the show or would like to volunteer please contact Pat Flanagan, show chair, at traeloch@netzero.com.
---
Cuyahoga Valley Golden Retriever Club Honors those that have passed
Cuyahoga Valley Golden Retriever Club would like to take a moment to honor our dog/handler teams that have separated this year due to the loss of a beloved canine companion. A donation is being made to The Golden Retriever Foundation in honor of these dogs and their human families.
To view the GRF Memorial Garden where our families hold a special place, go to the URL address following, and view the beautiful locations that have been set up – http://goldenretrieverfoundation.org/grfmemorialgarden/index.html
MACH Code Red Rescue JH, WC
October 2006 – 2017, owned by Kathy Koenig
OTCH Merichase Skye's Legacy VCD2, UDX3, SH (3 MH legs), AXJ, WCX, VCX, OBHF, CCA
(Echo) Feb. 20, 2004 – March 7, owned by Christy Thomas
BitterSweet's Brazilian Blend RA, NAJ, 9 Breed Points (2 majors)
8/14/09 – 11/13/2017, owned by The Goggin Family
Crossroads Bless the Broken Road RN, AX, MXJ, TDI
January 24, 2005-October 9, 2017, owned by Maria & Larry Zoul
Wakemup Ticket to a Wild Ride RA TD MH27 AX OAJ NF WCX ** 
10/1/11-9/6/16, owned by Carol Young
If you have any topics or articles you would like to share, please email them to the Editor at rschell08@gmail.com.
---
Mark your calendars
Specialty, New Castle, PA- Thurs.-Fri., June 21-22nd
Hunt Test, Hambden- Sat.-Sun., June 9th-10th
CVGRC Specialty June 20th – 22nd
Club Agility Trial- Aug. 11-12th
SOG agility – 8/03
WC/WCX- September 2nd
SOG agility – 9/21-23
Agility Trial – October 12th, 13th & 14th
---
May Program Attendance
CVGRC Program
May 6th, 2018 @ Bass Lake
Attendance: ​ 2018 May CVGRC Puppy Match & Program Meeting
Amy Gutmann, Sue Kapcoe, Katie Kapcoe, Carolyn Durway, Robin Schell, Jason Schell, Maria Zoul, Cheri Goggin, Pat Goggin, Joe Ott, Marilyn Richards, Beckie Jordan, Dianne Ross, Vicki White, Ed Andonian, Rochelle Andonian, Amy Harmon & Steve Harmon
Guests:  Janice Lightner, JoAnne Ruthoatz, Charles Langal, Wendy Ott, Gretchen Kresege and Char Hartson.