Cuyahoga Valley Golden Retriever Club Inc.                                      
Gold'n News                                                                                                                                               
March 2018
Vol XLIII Issue 3
March Reminders
March Meeting
7:00 pm March 26, 2018 at Simon's Deli, Brecksville, Ohio
Guest Speaker:  Amy Gutmann on Diabetic Detection Training
Please join us for a brief overview of several topics including understanding diabetes, screening clients, picking the breeding, imprinting, puppy selection, training of puppy and client, demonstration of alerting and service dog regulations.
Thanks for your continued support!
---
January Meeting Minutes
January 17, 2018
Board Meeting at Bob Evans, Macedonia
Attendance:  Beckie Jordan, Donna Edwards, Joan Sapsford, Steve Harmon, Amy Harmon and Pat Goggin
We need to work on the constitution and bylaws!  This is very important. It is very difficult to get a membership list distributed when dues are not coming in on time!
Judges Contracts:  When choosing judges for events we need to be very careful about how judges contracts are written.  We have had a few instances where judges were chosen and then they travel from a different location and CVGRC ends up paying a great deal more.
Budgets:
Banquet:  $1500.00
Puppy Match:  $300.00
Hunt Test:  $9,000.00
Puppy Match:  Joan & Cheri have secured the location.  
Do we want to do a Fast Cat at the Dock Diving location?
Spirit of Giving has picked up August 3rd, and September 28-30 with Helen.  We will be making $750/day at these events.  SOG will provide the Committee.
Respectfully Submitted by:  Amy Harmon
---
February Meeting and Banquet
Attendance:  Carol Young, Tara Perby, Kristina Bailey, Jan Furtwangler, Vicki White, Kathy Koenig, Diane Pavella, Laurie Zahar, Christy Thomas, Karen Laber, Debbie Lowe, Joan Durback, Marilyn Richards, Jack & Marie Albano, Dianne Ross, Sharon Hack, Pat & Cheri Goggin, Megan MacIntyre, Steve & Amy Harmon, Deb Stamm, Lisa Schultz, Diane Schultz, Kim Faulk, Vonnie Peterson, Joan Sapsford, Megan Sapsford, and Karen Bodner.
Guests:  Apryl St John, Rick & Ann Bingham, Dave Richards, Nathan Harmon, Teresa & George Brick, Jennifer Brick, Stef Watts, Jeff & Kim Solden, Wendy Crann and Dr. Emily Roach
Thank you to all that came out to our February meeting and Annual Awards Banquet.  We had a wonderfully successful evening not only celebrating our award recipients but also learning more about the Morris Animal Foundation 3000 Strong Cancer Lifetime Cancer Study!  We are happy to say that our Spirit of Giving Committee also raised $600.00 for WAGS 4 Kids that was presented to Wendy that evening.
---
Member News
Note from Tara on Tracking
I got a tracking test premium from The Dayton Dog training club.  They are holding a TD and TDX on April 8, 2018. The entries close on Wed March 21st. If you have any questions please reach out to Tara at xroadsglds@aol.com
---
Chair Position Open
We are still looking for fill some chair positions.
Tracking
Historian
Public Education Coordinator
GRCA/CVGRC Delegate
Care and Concern
If you would like to be considered please contact Amy Harmon.
---
1st Quarter of 2018 Spirit of giving recipient received gift
Wags had received their checks from the banquet totaling $600.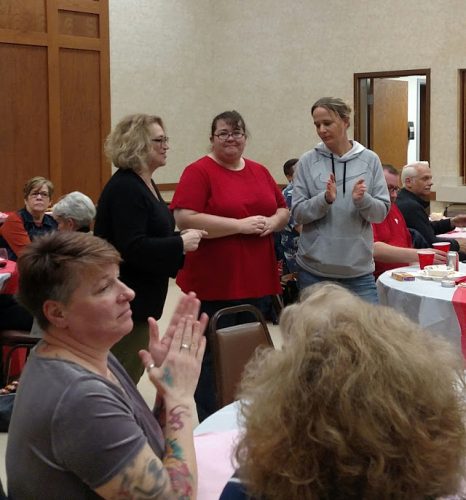 Our next event is the Puppy Match on May 6th at Bass Lake Preserve
Barb Vick, the "Whelper Helper" will be presenting a program
"Getting started in breeding"
---
Dr. Emily Roche's visit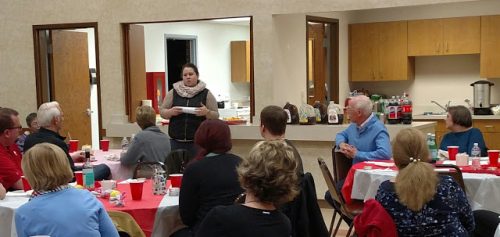 If you have any topics or articles you would like to share, please email them to the Editor at rschell08@gmail.com.
---
Mark your calendars
Puppy Match- Sunday, May 6th
Specialty, New Castle, PA- Thurs.-Fri., June 21-22nd
Hunt Test, Hambden- Sat.-Sun., June 9th-10th
Club Agility Trial- Aug. 11-12th
SOG agility – 8/03
WC/WCX- September 2nd
SOG agility – 9/21-23
Agility Trial – October 12th -15th