This page will be for dogs we have lost during this year.  One picture & something you would like to express how you felt about the dog you have lost and loved. Contact goldnpoint@aol.com    
BitterSweet's Brazilian Blend RA, NAJ, 9 Breed Points (2 majors)
 Saturday Nov. 11th, we lost our dog Kenya. It feels like just yesterday when we decided we were going to keep her, when in the middle of baking Christmas cookies, my mom received a phone call asking for us to take her back because she was just too much dog. She always was like a bull in a China shop. However, she was always very pretty and had the ability to float around the breed ring. She was also a smart one. She free shape taught herself how to curl lie down, just in hopes of getting a cookie. She also was a great agility dog, whose favorite obstacle was the weaves. She was always such a great show dog and family pet. We have loved her over the years and will miss her dearly, but we know she will be waiting for us at the rainbow bridge. In loving memory of Kenya. We love you Keykers!              MacIntyre/ Goggin Family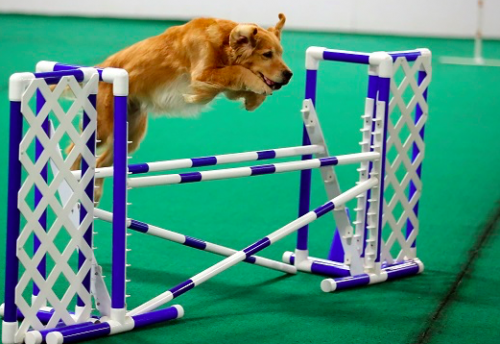 MACH Code Red Rescue, Cody…Cody rescued me in October 2006. GRIN did an amazing job matching us up and I will forever be grateful! If there ever was a dog that changed someone's life it was Cody. He was approximately 2 years old… but truly a puppy at heart, when he entered my life. I had never dreamt of competing with a k9 partner, but Cody had different plans. He took me on a wild adventure introducing me to so many new people, many of whom would become my " family". We were a very NOVICE team… through all our toils and troubles… teeter issues, Velcro issues, handler issues… Cody earned a CD, a JH (Junior Hunter), WC, TDI, CGC, OF, many USDAA titles, and ASCA titles, and was the first Male rescue golden to earn his MACH, (Master Agility Champion… He missed being the first rescued golden to earn a MACH by 3 weeks. Cody was a gentle soul, gave the best kisses, loved his tennis balls, birds and life in general!! He was my silly "Buckethead". It was so hard to say goodbye to him on Tuesday April 4, 2017.  He was diagnosed with a soft tissue sarcoma last year that had spread to the lymph glands. He fought a good fight, but his body just couldn't do it any longer.   Cody was approximately 13. We had a great time together Bucket! I still feel you in the car with me, your other favorite place to be, and will never forget     you!!!!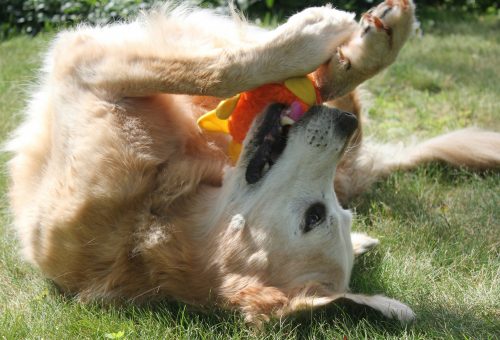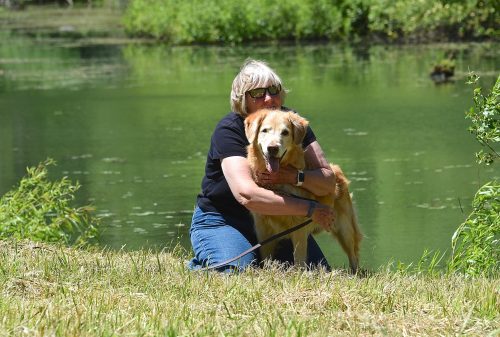 OTCH Merichase Skye's Legacy VCD2 UDX3  SH (3 MH legs) AXJ WCX VCX OBHF CCA (Echo)       Feb. 20, 2004-March 7   OWNED BY CHRSTY THOMAS
The house is so quiet. Echo is gone. It was the right time for him, but there is now a huge void. He had such a presence about him. He was above all my teacher. His love & determination to go on no matter what, inspired me. Our relationship was complicated, especially to begin with. But, I got past that and realized, just what an incredible being Echo was. He was a watcher, rarely taking his eyes off of me–but now those eyes are forever closed. He can be free of pain,of cancer, of the crippling from FCE and run freely !! My heart is broken, the silence almost unbearable. Love you always !